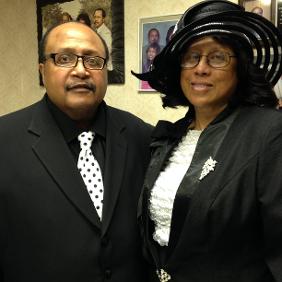 Apostle Michael Bethel & First Lady Yvonne Bethel
Welcome!
YOU DON'T HAVE TO BE A MEMBER TO WORSHIP WITH US
Witness the power of the old-fashioned gospel, the faith-filled healings, and a worship service like no other in the area. Come and see the live recordings of our television and radio broadcasts. Praise God along with our multiple choirs, musicians, and ensembles. You can even meet our pastor, Apostle Michael Bethel, on your very first visit. Enjoy a family-friendly environment and Godly atmosphere that is unique to Holy Bethel. Whether you are just visiting or you are searching for a church home, Holy Bethel is here to welcome you with open arms and with a great word from the Lord. This is a church where you worship and you belong. Consider this your invitation to visit Holy Bethel.
God Bless You!
Church Address:
110 Songsmith Drive
Newark, DE 19702
Mailing Address:
P.O. Box 9493
Newark, DE 19714-9493
Church Phone Number:
302-834-0303
Ministry Phone Number & Prayer Line:
302-323-0440
Click here to see what's happening at Holy Bethel
Regular Services
Wednesday
8:00 PM Bible Study
Friday
8:00 PM Prayer & Praise
Sunday
11:00 AM Morning Worship Service
Television Broadcasts
Comcast Cable
(Channel 28 in New Castle County, Delaware)
Tuesday - Thursday 5 PM
Saturday 8 PM
Radio Broadcasts
Sundays @ 8:45 PM on WKBY 1080AM (Streaming)
WKDI 840AM - Denton, MD - 28 years
WILA 1580am - Danville, VA - 27 years
WJRO 1590am - Baltimore, MD - 8 years
Radio Anguilla - Carribean Sea - 5 years
Radio Africa - 8 years